Reconnecting with our Diaspora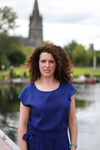 Reconnecting with our diaspora will be an essential strand of a new tourism project which will be tasked with attracting international tourists to Ireland, Fine Gael Senator Aisling Dolan has said.
"The Global Invitation Programme will be charged with stimulating international demand and features as a recommendation of the Tourism Recovery Plan 2020-2023. It's crucial that we engage with families and people with Irish connections living abroad. There is a wealth of goodwill for Ireland and now is the time to ask for that boost for 2023," Senator Dolan explained.
"The Irish tourism sector continues to emerge from the impact of the Covid-19 pandemic, but this year will be the third anniversary of when Covid-19 first hit our shores and to that end, plans to boost the sector's recovery continue. €5 million was allocated to the conceptual development process of the Global Invitation Programme in 2022, with a further €15 million being allocated in Budget 2023 for the Programme and international marketing.
"The Global Invitation Programme will highlight what Ireland has become renowned for all over the world; the warmth of our welcome, the beauty of our landscape and the richness of our culture. Reaching out to our diaspora should underpin this new programme – particularly when one considers that many Irish people now living overseas have not yet had the opportunity to visit home since the pandemic first started.
"We face into the next couple of years with ambition.
"We have multi-million euro government investment in tourism experiences, including Beyond the Trees in Wicklow, a new visitor experience at the Blasket Centre in Dún Chaoin, on the western edge of the Dingle Peninsula and in Strokestown, Roscommon, the first National Famine Museum.
"Outdoor Recreational Infrastructure investment has also developed waymarked trails for a unique experience on Beara Breifne Trail through 7 counties from West Cork to Cavan, including Hidden Heartlands of East Galway and Roscommon. And the scenic Galway to Dublin Cycleway is attracting international attention as part of the first leg of the Eurovélo network of long-distance cycling routes in Europe. I am really looking forward to the official opening of the Cycleway Bridge across the Shannon into the West at Athlone, as well as further development of the Galway to Athlone route including links to my own town of Ballinasloe.
"The Open will return to Royal Portrush in 2025 and the Ryder Cup will take place in Adare Manor, in Co Limerick, in 2027. Ireland will also host the American College Football Classic every August out to 2026. These events will undoubtedly give us unparalleled global media coverage.
"In 2019, we welcomed 11.3 million overseas visitors to Ireland, surpassing all previous records and these visitors supported approximately 325,000 jobs in communities right across the island. We know from research, that seven out of 10 people who want to travel in 2023 are still in the planning stages – so, there is still a really good opportunity to influence their choice of destination.
"The friendliness and welcome from Irish people is the reason tourists want to visit Ireland and it drives local employment in rural regional areas.  Supporting our hospitality and catering sector will be crucial to a successful strategy in 2023 from hotel beds and accommodation to support with increased energy costs through the Temporary Business Energy Support Scheme. We need recruitment and training supports for employers with flexible and attractive roles in the industry.
"Ireland is renowned for its arts, culture and heritage; from the stunning landscape scenery of Inis Mór, Aran Islands and Achill Island in Banshees of Inisherin to Oscar nomination of An Cailín Ciúin this year – the first ever Irish language film short-listed. Our artists are intrinsic to giving people an insight into Ireland at a global level. And the power of film is incredible in attracting tourists to our shores as Skelligs and Kerry have experienced with Star Wars.
"The Global Invitation Initiative is being launched in 2023 on the tenth anniversary of The Gathering in 2013 which gave such a boost to the industry. Our global diaspora is our biggest resource and are ambassadors for Ireland abroad. Now is the time to bring that support to bear."