DOLAN WELCOMES €50 MILLION FOR WALKING AND CYCLING FUND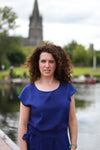 A €50 million fund for walking and cycling was announced today by Minister for Transport Eamon Ryan T.D. and Minister of State Hildegarde Naughton T.D.
A Fine Gael Senator noted ' Local Authorities will be able to apply for this fund and develop more walkways, footpaths, zebra crossings, cycle parking and dedicated pedestrian & cycling zones. We need safe places to walk and cycle'.
Senator Aisling Dolan representing Roscommon-Galway added 'In a strange way, it's easier and safer to walk and cycle in our cities as they have had lots of investment to develop this infrastructure - this fund is especially dedicated to our towns & villages so that families and children could have safer ways to walk or cycle to school or work. We know how dangerous it is to even go for a walk in towns with a lack of footpaths and especially on country roads – this fund promotes safety of walkers & cyclists from cars and trucks'
'I am delighted that both Roscommon & Galway Local Authorities will be able to apply for this fund so I do encourage community walking & cycling groups to put forward ideas'
The aim of this funding is to support the development of high-quality cycling and walking infrastructure outside of our cities. Local authorities in the Greater Dublin Area along with regional cities are already eligible for Active Travel funding from the NTA, and so this investment is specifically targeted at towns and villages across the country.
Local authority applicants should identify convenient and direct routes for active travel modes, including, and where necessary, aim to reallocate space from motor traffic and car parking. Funded projects should be accessible, age-friendly and maximise comfort to people of all ages and abilities.
Minister Ryan said:
"Since Covid we have seen an increase in cycling and walking, and a reconnection to our local areas as well as some inspired ideas from our local councils. Now is the time to build on that by providing this specific funding for 2021 for high quality cycling and pedestrian infrastructure in towns and villages across the country."
"We want to facilitate people cycling and walking as part of their daily routine, connecting residential areas with schools, public transport, workplaces and public amenities. We're looking forward to exciting projects from our local authorities which deliver the kind of segregated paths and other facilities that will encourage more people to walk and cycle."
Minister Naughton said:
"The Programme for Government commits to fundamentally changing the nature of transport in Ireland and high-quality active travel infrastructure will play a key part in making that change a reality.
"Today's announcement provides a great opportunity, particularly for those local authorities who have not yet had the resources to develop Active Travel strategies."
Anne Graham CEO of the NTA said:
"The number of people who are choosing to get around by Active Travel modes is growing steadily, and we are responding to this by funding local authorities who want to invest in providing new infrastructure and new supports.
"We will write to the relevant local authorities in the coming days and will be calling on them to engage with us on this.
"We are particularly keen to ensure that those that do not already have detailed active travel network strategies are given the technical and financial support they need."